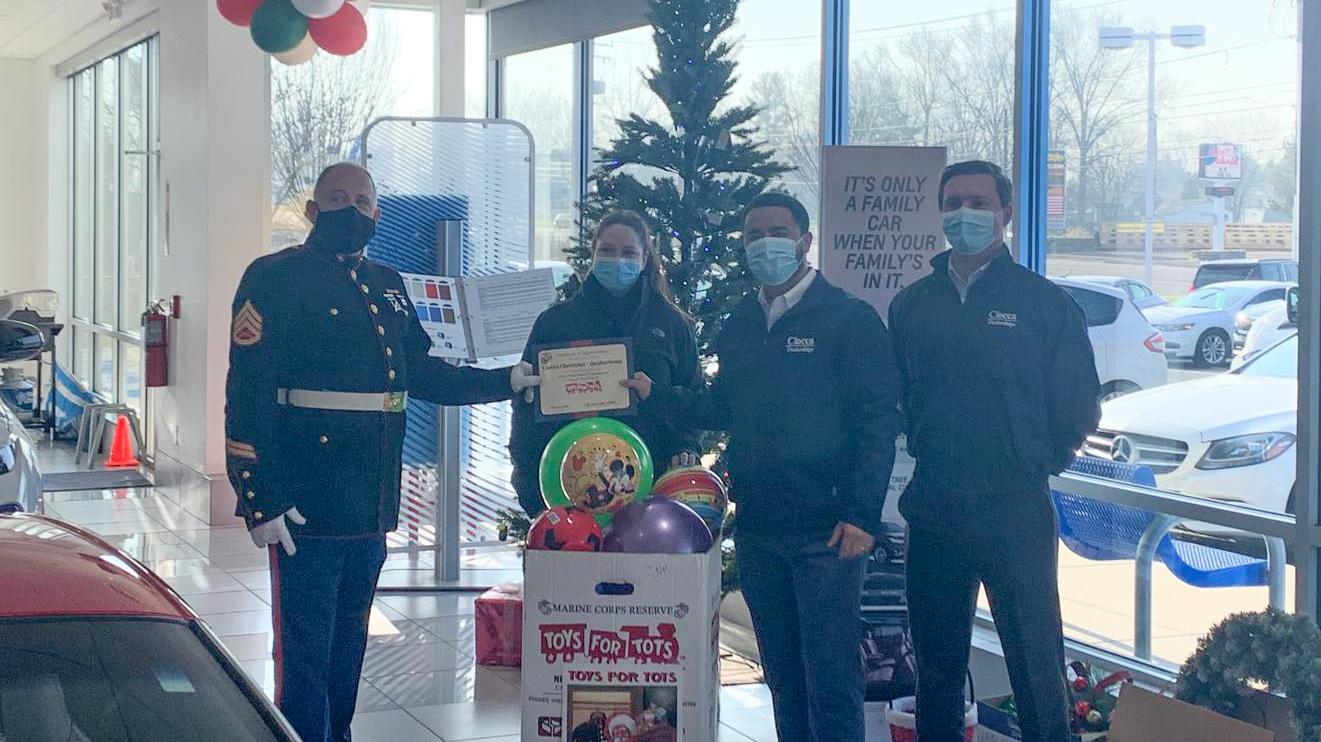 CIOCCA CHEVROLET COLLECTS FOR TOYS FOR TOTS
Ciocca Chevrolet of Quakertown again teamed up with the Marine Corps Reserve to collect new, unwrapped toys for children during the holiday season. Donation boxes at all dealerships were filled with toys by employees and customers and collected on Dec. 11 by Bucks County Toys For Tots and Allentown Toys For Tots. Ciocca Dealerships is proud to continue this tradition of providing for children in need each holiday season.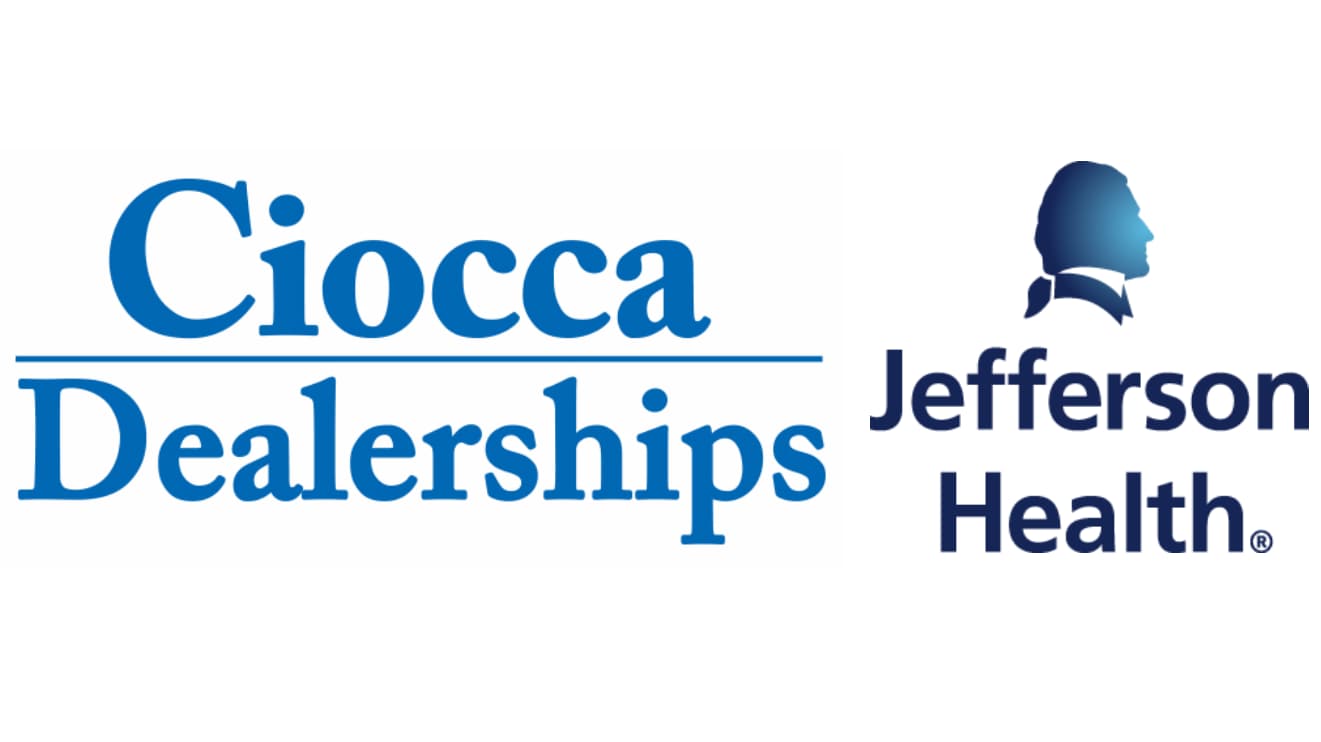 CIOCCA DONATES $25,000 TO JEFFERSON HEALTH
To help local healthcare workers battle COVID-19, Ciocca Dealerships contributed $25,000 to the Jefferson University Hospitals COVID-19 Better Together Fund in April. Jefferson Health's team of physicians and healthcare professionals include national experts who have decades of experience in caring for patients with infectious diseases. For more information on how Jefferson Health is fighting and treating COVID-19, or to donate to the fund, visit jeffersonhealth.org.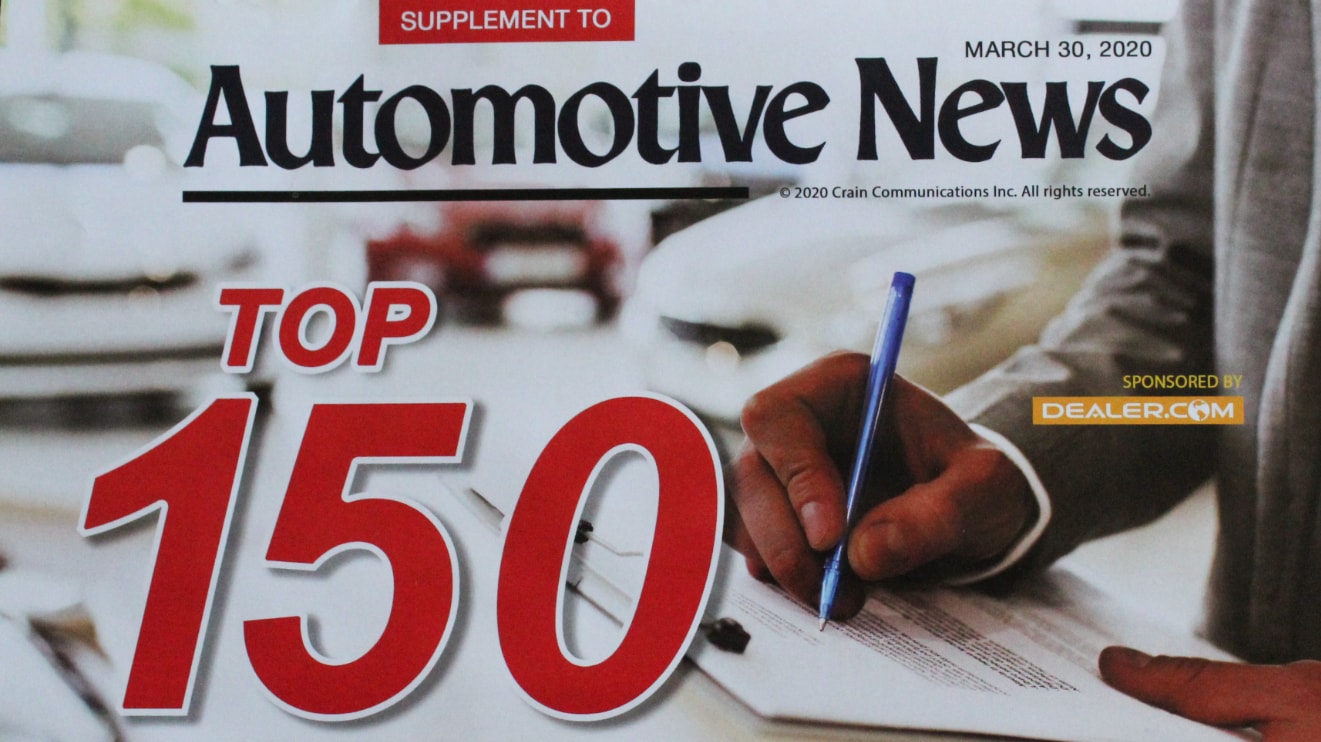 CIOCCA CLIMBS NATIONAL DEALER RANKINGS
Ciocca Dealerships again climbed the annual Automotive News list of the top 150 dealer groups in the nation. Ciocca rose nine spots to No. 98 in the 2019 rankings, cracking the top 100 for the first time. The group saw unprecedented growth in 2019; the six new stores added was tied for the second-most in the nation. Ciocca added stores in Williamsport in March 2019 and State College in October. Ciocca Nissan of Quakertown opened in December 2019 but new car sales began in January.
Ciocca also moved up the Automotive News rankings for used car dealers. In April, the group came in at No. 74 on the publication's top-100 used vehicle retailers in the nation, up 19 spots from 2018.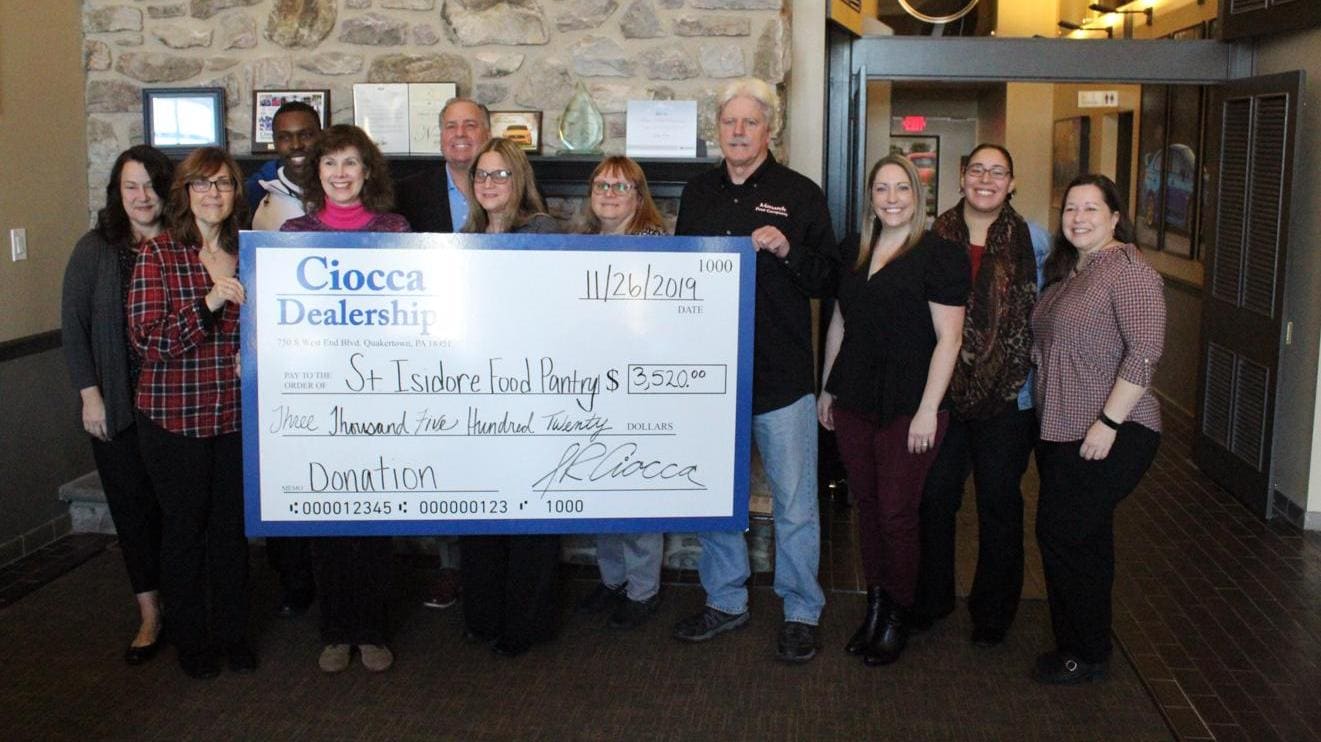 CIOCCA DONATES TO ST. ISADORE FOOD PANTRY
Ciocca Dealerships again joined forces with the 1st Pennsylvania Mustang Club to raise $3,520 for the St. Isidore Food Pantry in Quakertown. Donations were received at the car shows throughout the year and matched by Ciocca Dealerships. A check was presented by Ciocca Dealerships staff to St. Isadore Food Pantry on Nov. 26 at the Ciocca Corporate Center.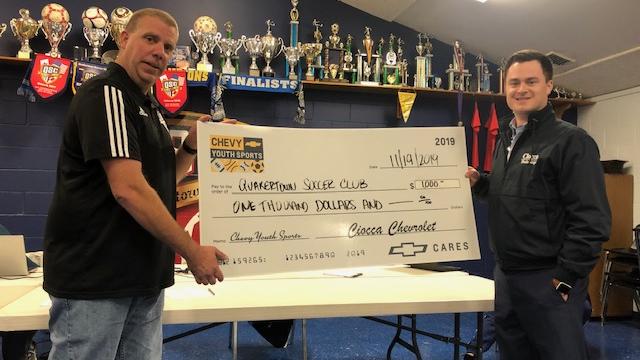 CIOCCA CHEVROLET GIVES TO QUAKERTOWN SOCCER CLUB
Ciocca Chevrolet of Quakertown presented Quakertown Soccer Club with a check for $1,000 on Nov. 19. The donation was part of the Chevy Youth Sports initiative, which helps youth programs across the country. Since 2010, Chevy Youth Soccer has provided 73,000 uniforms and 752 free youth clinics for more than 6 million kids in 40 markets.
CIOCCA DEALERSHIPS HELPS DRIVING AWAY THE COLD
Ciocca Dealerships was on hand at the Pennsylvania Convention Center in Philadelphia on Oct. 8 to help deliver new coats to children in need as part of the Driving Away the Cold campaign, an initiative of the Auto Dealers CARing for Kids Foundation. This year Ciocca Dealerships contributed more than 1,000 new coats, which are distributed to less fortunate children in the greater Philadelphia area. As they have in the past, Ciocca's Quakertown and Souderton locations helped deliver coats to the YMCA of Bucks County on Oct. 25, while Ciocca Chevrolet of West Chester helped deliver to the Chester County Family Academy on Oct. 11. Driving Away the Cold has provided more than 50,000 new coats so far this year and more than 400,000 since the project began in 2008.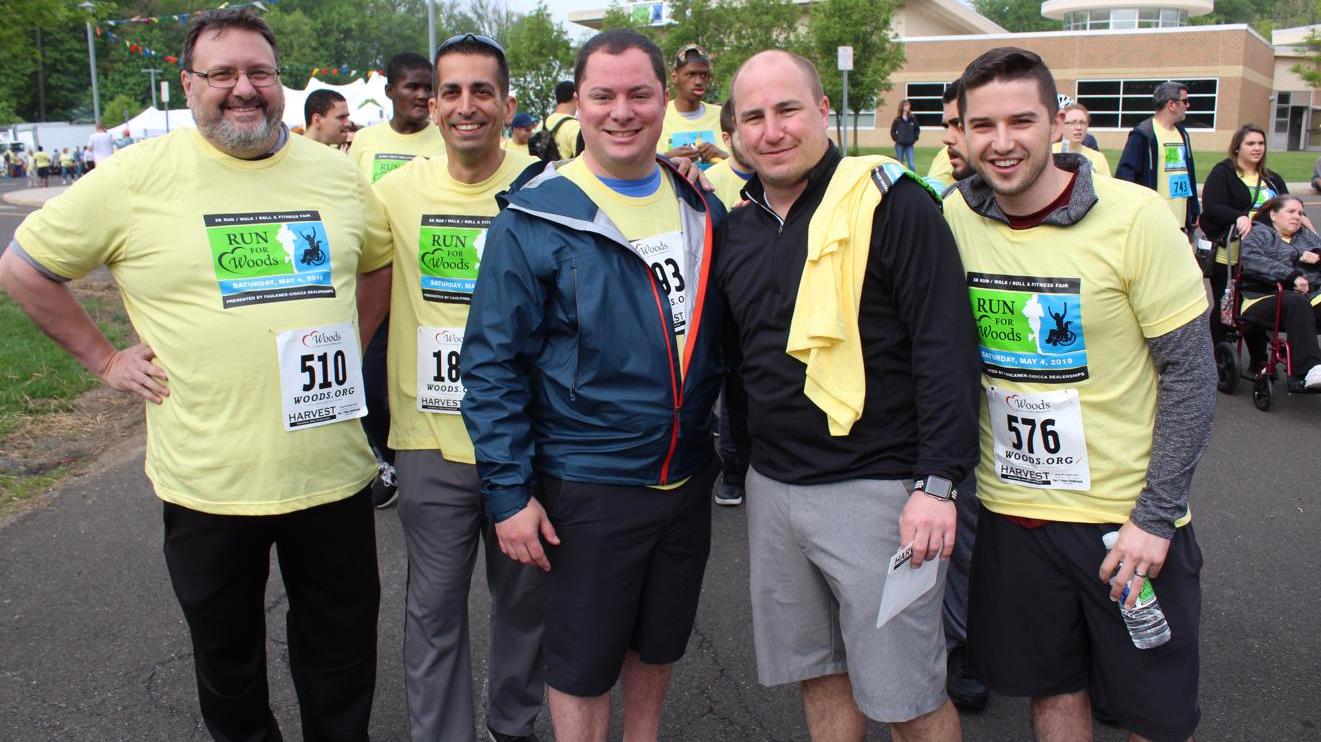 CIOCCA DEALERSHIPS RAISES $75,000 AT RUN FOR WOODS
Ciocca Dealerships raised more than $75,000 for Woods Services at the 5th annual Run for Woods on May 4. The 2019 5K run/walk saw the biggest turnout ever, with more than 1,100 people attending and more than $170,000 being raised. Ciocca Dealerships was again a presenting sponsor of the event. Ciocca Subaru led the team donations with 11,365, Ciocca Volkswagen raised 11,130 and Faulkner Buick GMC of West Chester raised $9,250.
Woods Services is a nonprofit organization that provides health, education, housing, workforce, behavioral health and case management to more than 4,000 children and adults who have complex and intensive medical and behavioral health care needs.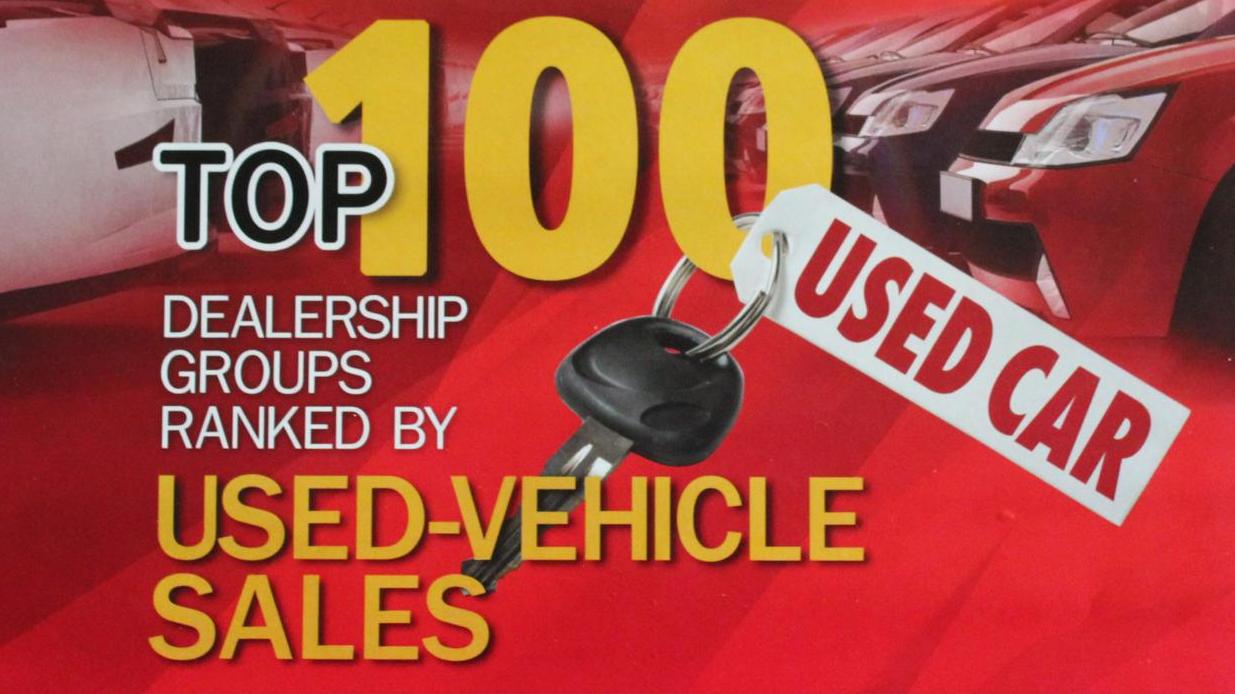 CIOCCA CRACKS TOP USED CAR DEALERS LIST
Ciocca Dealerships again cracked an Automotive News top dealership list. In late April, the publication came out with its list of top 100 used car dealers in the nation, based on used vehicle sales. Making its first appearance on the list, Ciocca Dealerships came in at 93. Ciocca Dealerships finished 2018 with 7,794 used retail unit sales, up from 6,393 in 2017.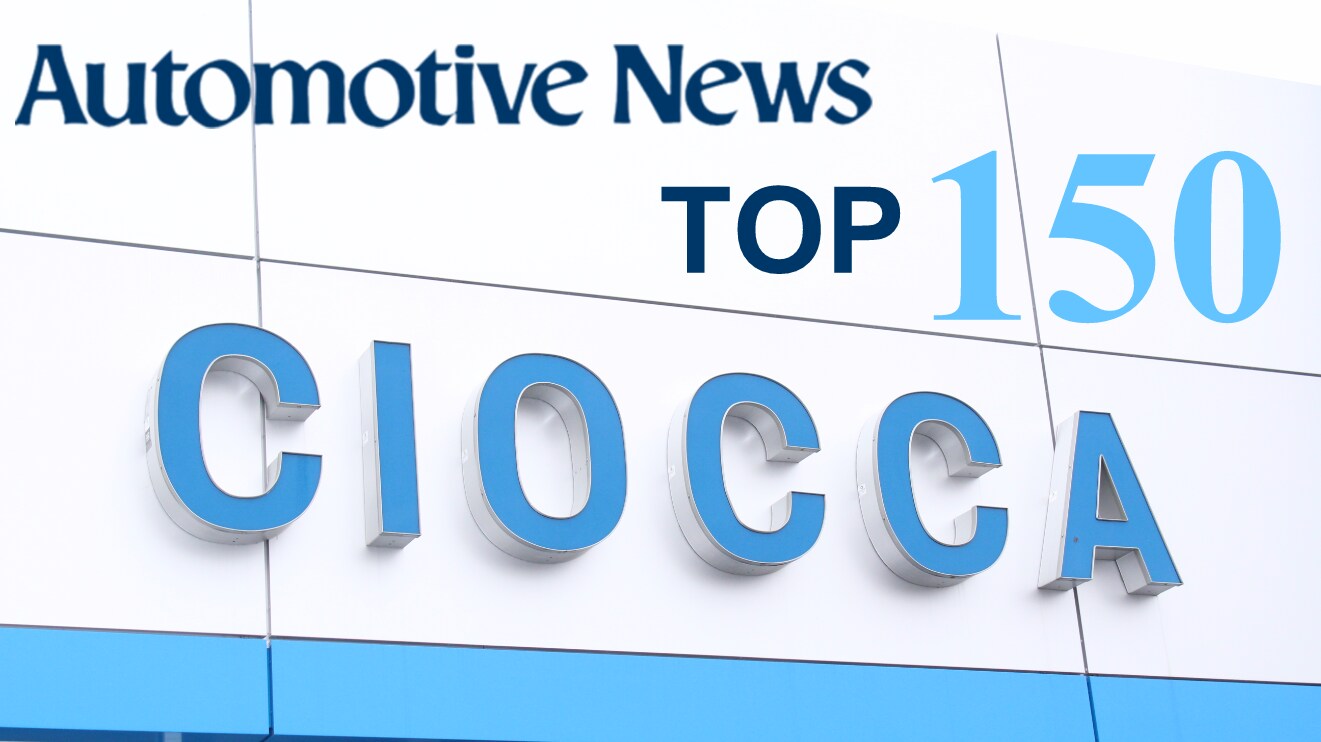 AUTOMOTIVE NEWS NAMES CIOCCA IN TOP 110 DEALERSHIPS
On March 25, Automotive News published its list of the top 150 largest auto retail groups in the United States ranked by unit sales of new vehicles in 2018. Ciocca Dealerships was ranked 107 in the country with more than 21,000 total units. Last year, Ciocca came in at 120 on the list; the 13-spot gain is tied for the third largest rank change in the United States.
CEO and founder Gregg Ciocca said in a letter to employees, "The success of our dealership group is due to the hard work of our associates. This achievement squarely reflects the time, effort, and dedication each of you put in."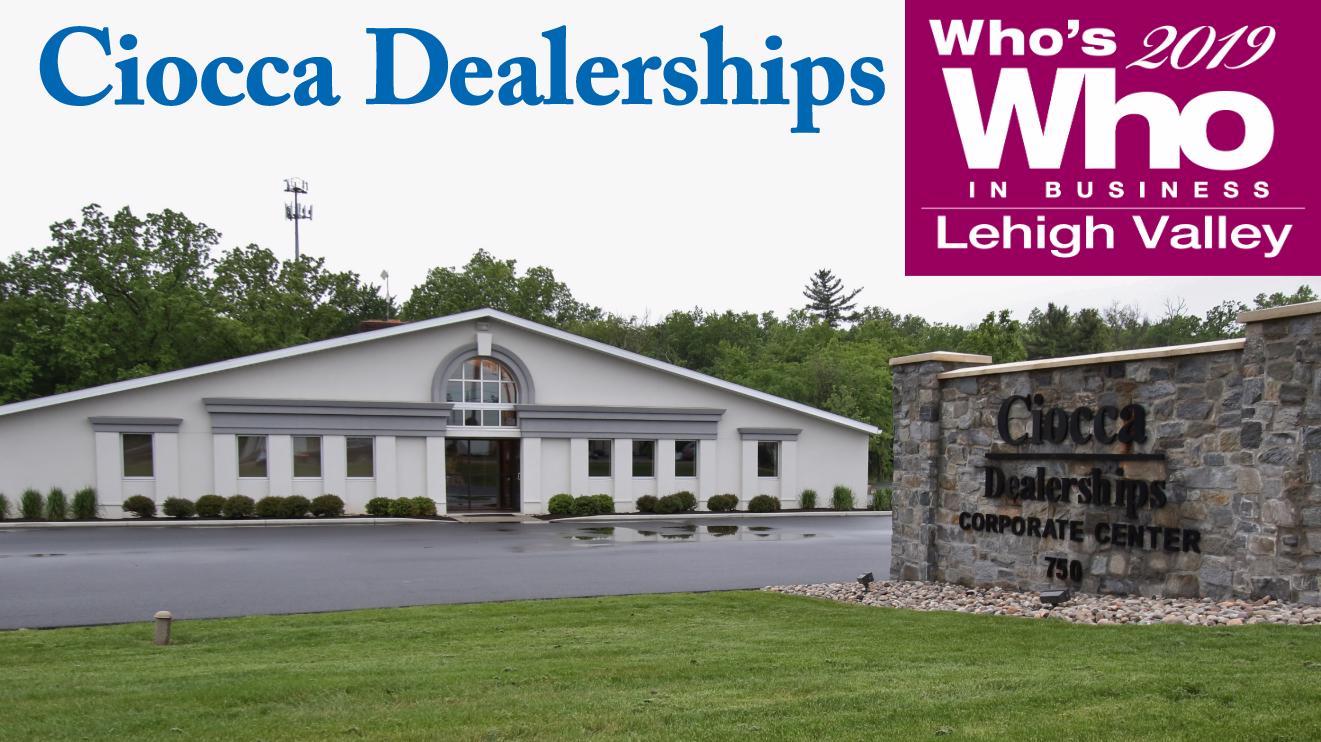 CIOCCA DEALERSHIPS EARNS WHO'S WHO HONORS FOR 2019
Ciocca Dealerships was chosen as the leader in the Auto Dealer category in the Lehigh Valley Who's Who in Business survey for 2019. Sponsored by Lehigh Valley Style magazine, the Who's Who in Business survey is the region's only statistical accurate survey of consumer preference. Conducted by FieldGoals.Us, an independent market research firm, the survey identifies the region's leaders in a variety of business categories as determined by Lehigh Valley residents.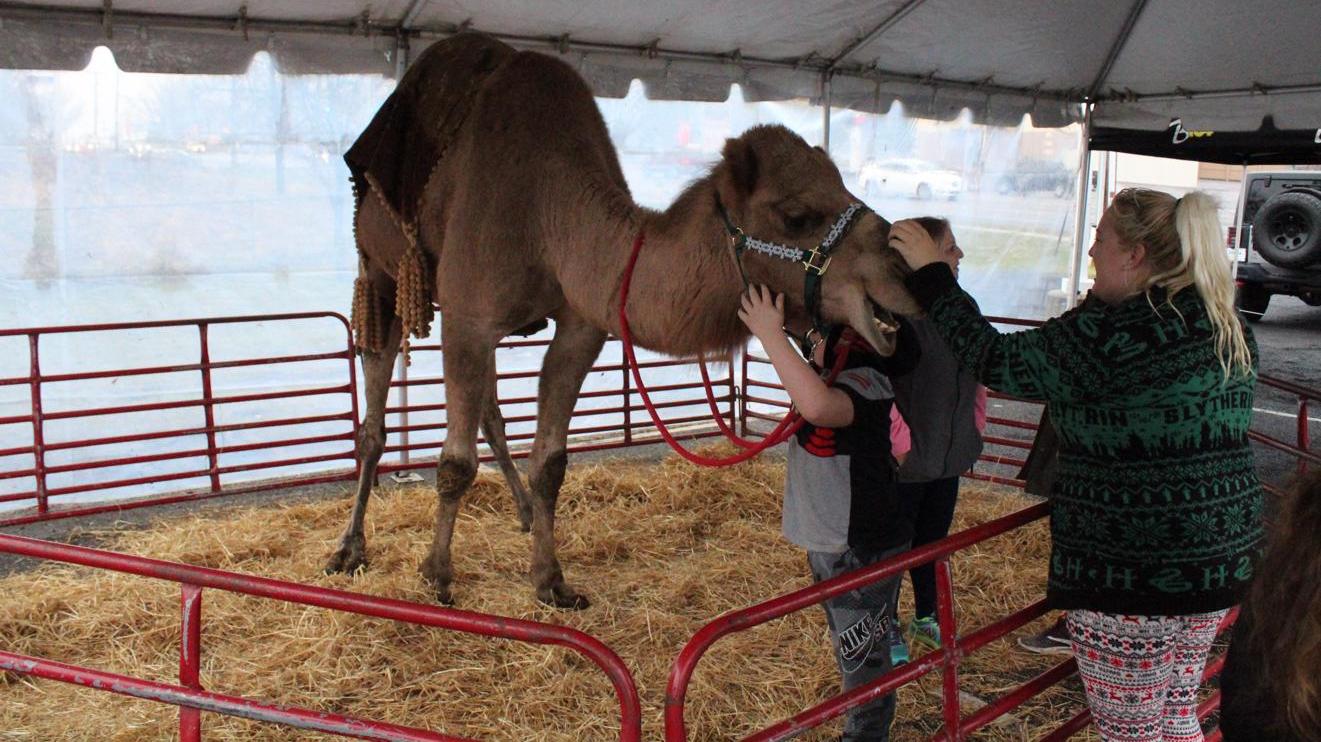 CIOCCA CHEVROLET ACCEPTS DONATIONS FOR PETTING ZOO
Ciocca Chevrolet hosted Einstein the Camel from Peaceable Kingdom Mobile Petting Zoo on Saturday, Dec. 15. Einstein garnered national attention when he was spotted walking along PA Route 309 during a large November snowstorm. Radio station 95.1 ZZO was also on hand to give away KISS concert tickets and free food was available for all customers. Pictures could be taken with Einstein for $5, which went to the Perkasie-based petting zoo.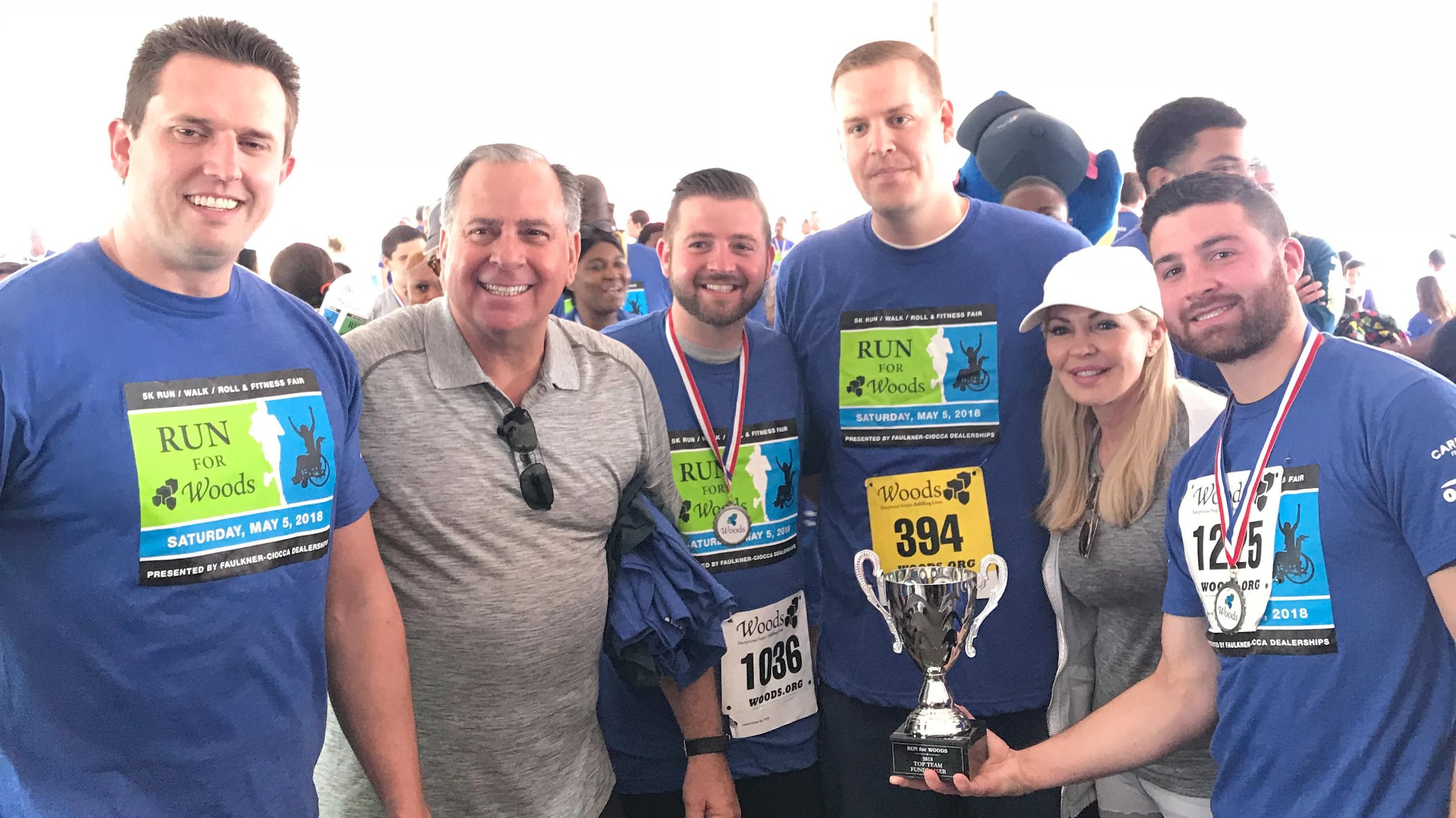 CIOCCA DEALERSHIPS RAISES $73,000 FOR WOODS SERVICES
The Ciocca Dealerships family was out in full force on May 5, raising $73,000 during the 4th annual Run for Woods. The 5K run/walk benefits Woods Services, a nonprofit organization that provides health care, education, housing, and other essential services to more than 4,000 children and adults who have complex and intensive medical and behavioral health care needs.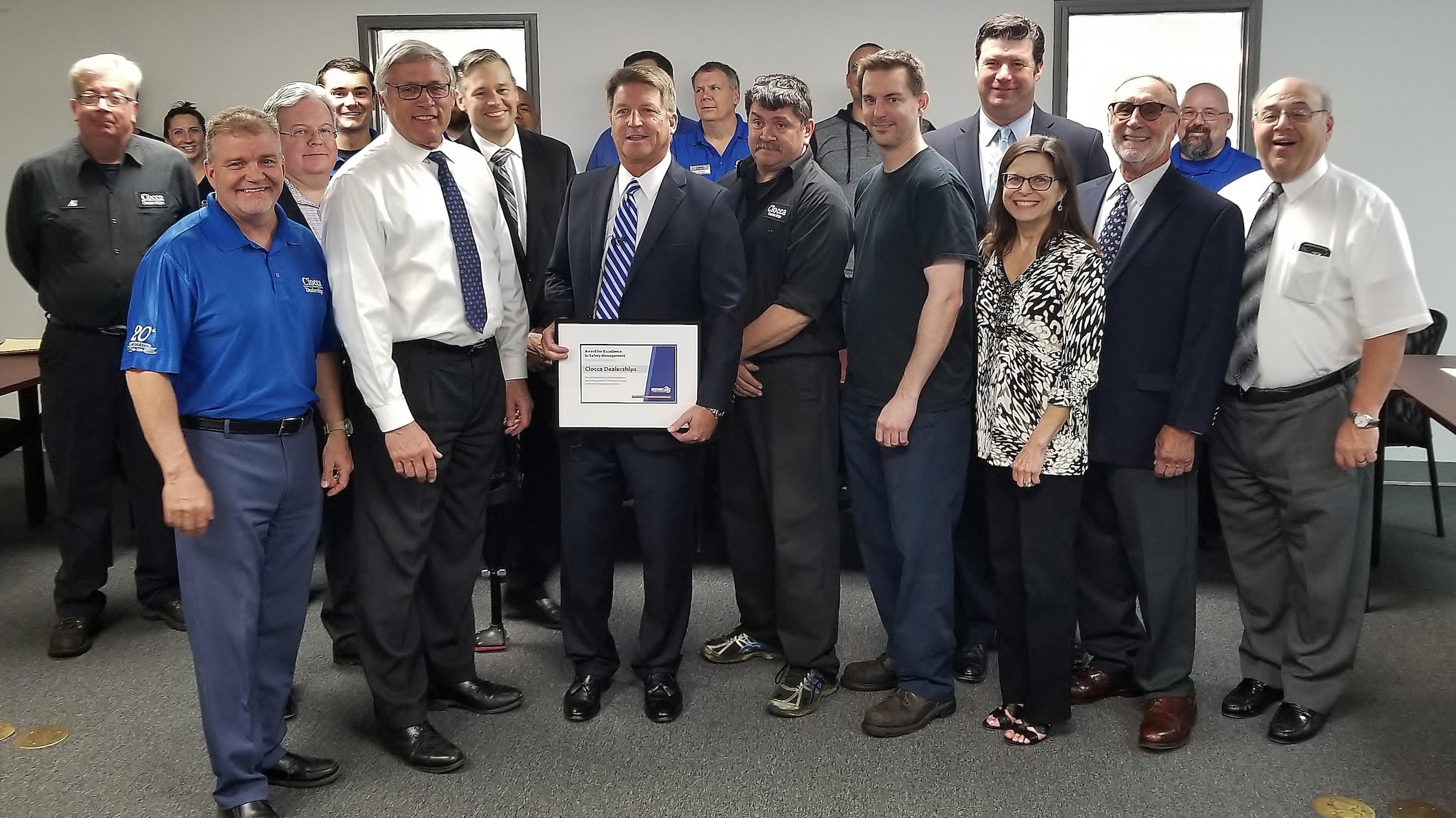 CIOCCA RECEIVES MEMIC AWARD FOR SAFETY
Ciocca Dealerships made history by earning a Memic Award for Safety for 2017, marking the first time an auto dealer group has received the award. Ever year, Memic, a worker's compensation specialist company, presents eight companies with this honor out of the 20,000-plus clients it has, and Ciocca Dealerships was one of only two companies on the East Coast to receive the award. The award honors outstanding performance by a company in protecting its employees and customers. To win, a company must show a concerted effort to enact and enforce safety policies and then must show results.